One way to start new Christmas traditions is to get away from it all and wipe the slate clean after divorce. No more "this was what we did when we were still married last Christmas Eve." One happily divorced woman who is now my friend, went on a Christmas/New Year's cruise solo. She chose to surround herself with many people and felt the Christmas spirit. Not needing a date to dance the night away on New Year's Eve was a bonus.
On cruises, there are often get-togethers for the single passengers of all ages. Beats moping around one's flat when friends are occupied with their own holiday plans. Both my sons and I did two holiday cruises on Cunard's QE2 with my husband and mother. Then just the three of us did two post- divorce ones on Holland America.
What are holiday cruises like?
The anticipation starts months ahead of time when selecting the destinations. The cruises are a nice mix of exploring other cultures during the day and consuming scrumptious meals on board while possibly being serenaded by a string quartet. It was a unique experience hearing a steel band in the Caribbean playing carols and seeing Gibraltar decked out in Christmas decorations. There are different types of entertainment – concerts, musicals, comedians, magic shows, plus much more. Other activities are lectures, cooking demonstrations, computer classes, quizzes, and bridge, just to mention a few. One can be sociable or chill out reading in a quiet corner. The kids are kept busy and the single parents get some alone time or to interact with other adults. The staff puts on a show and sings carols. The QE2 had a traditional British Christmas which included a hilarious pantomime. Holland America embraced its Dutch heritage with their special foods and celebrations.
I packed my sons' Christmas stockings with several small gifts. I picked up something on the trip, a local t-shirt or souvenir, since the cruise is their present. Having just a few stocking stuffers to open gets the focus off material goods and puts the emphasis on shared experiences. At home we never attended so many holiday programs or ate such feasts as we did on board.
The ships were decorated exquisitely and not having to take down the tree and so forth is a gift in itself. The time we did not spend getting tasks done in the frenetic holiday season meant we could bond in a stress-free environment. A few singles told me that they tucked away presents from their families and looked forward to opening them on Christmas Day. If you enjoy a surprise, consider going to a shop with items you like (skin serum for me) and pay them to wrap up something you can have on Christmas day.
The adults seemed to enjoy Father Christmas's appearance on Christmas almost as much as the children.
He and the elves gave out presents while the adults sipped their spiked egg nog. My twenty-two year old was excited that Father Christmas remembered the college kids on board too.
A priest conducted lovely Christmas Eve and Day masses (actually every day). Classic holiday movies are shown in the cinema and being on this type of cruise is truly magical.
Book early since the holiday ones sell out.
I bring two non-religious holiday cards and put a little cash in them. One is a present for our cabin steward and the other for the waiter and the assistant at our table. The money I do not spend on gifts, decorating, entertainment and food pays a chunk of the cruise price. It is possible to get cruise ships out of Southampton and other UK ports which saves on transportation costs.
As a single mother it is easier to budget for a cruise holiday, since I know the costs up front. We drink water and do not have added fees, such as a beverage or alcohol package. We eat in the main dining room which is included, and forgo the pricey specialty restaurants which are not. Some cruise lines include shore excursions in their price and others alcohol with meals. Look carefully at what is included and do some comparison shopping.
I asked various singles if they felt lonely on a cruise over the holidays and their answers were a big "no." On the various holiday and regular cruises, quite a few passengers are travelling on their own.
Originally published in The Divorce Magazine www.thedivorcemagazine.co.uk/
Getting away post-divorce is just the ticket to rebooting your life and making a fresh start. My post-divorce journeys were both internal and external as in "Eat, Pray, Love" by Elizabeth Gilbert. After being divorced for a few months, I felt like running away and that I did – to South Africa. It was a nurses' tour, so I balanced alone time with camaraderie. This took me out of familiar surroundings and into the unknown. That is a way to focus on something else other than one's woes. The other travelers asked me questions that were not directed by my divorce situation. Friends at home kept reminding me of my new single circumstance, it was great to be away from that. And, seeing lions, elephants and more in their natural habitat leaves one with a sense of awe. It was an honor to be temporarily a part of their world. The obstacles in my life became smaller after seeing what these animal mothers endure, with poachers, hunters, and illegal snare traps.
Teens can be a handful in the best of circumstances and more so after divorce. Near Cape Town is a penguin colony and their adolescents reminded us tour members of our kids. These young penguins were acting cool and huddled in a group. They would yell when younger siblings tried to join them. If a parent started to come over to them, these juvenile penguins turned their backs and ignored the adults. Sound familiar? Lesson learned was being able to laugh at these penguin adolescents enabled me to find my sons more amusing.
The women in Africa were building huts, foraging for food and had a rough existence by our Western standards, yet seemed very happy. That put my life in perspective. I became more grateful for what I had and readjusted my attitude. Several divorced women have surprised themselves by achieving feats such as climbing Mt. Kilimanjaro or doing treks in Africa. Getting out of your comfort zone refreshes one's outlook especially when in the midst of great scenery. Please read more…. http://divorcedmoms.com/articles/divorce-vacation-how-a-trip-was-the-first-step-in-my-postdivorce-journey
There are tricks to packing for a holiday to make life easier, whether going alone or with the kids. My sons and I usually only have carry on, and in order to do this we have perfected a few practices.
We save socks and underwear with a hole in them for holidays, so they can be worn and thrown away on the trip. Trousers and shoes that still look okay but are getting a bit worn, are also packed and discarded too.
When my sons were little, I took almost outgrown clothes and left them behind in the hotels with a note.
I went to South Africa right after my divorce and the nice looking shirts that my ex had given me, were worn and donated to a local charity. I went to Egypt with a stuffed carry on and got rid of most of my clothes and had room for many souvenirs.
I do not take a handbag, but only a money pouch that can also hold a few other essentials like lip balm. I carry a small bag for books, snacks, an umbrella, etc around the city or while on tours which takes up no space in my suitcase. I take a larger tote bag as my personal item when travelling, that is roomier than a handbag.
Have a small travel wardrobe that washes well in a hotel or cabin's sink and can be hung up to dry. This includes nice dresses in washable silk, for more formal affairs. I use the shampoo to wash clothes that is provided by the hotel or ship.
Magazines have foundation, lotion, and serum samples that I save for holidays. I get facials at Neal's Yard and they are generous with trip size containers of their wonderful products.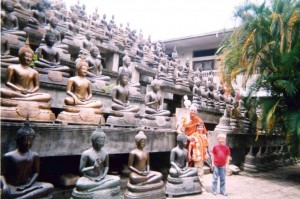 A pharmacy has special days where companies come in and hand out small promotional size goodies in their skin care lines. Stash these away for your next holiday, including the small tubes of toothpaste from your dentist.
I save small eye cream and lip balm containers and put my own creams and lotions into them to save space when packing toiletries.
Our local library has a rack where people leave their magazines and pick up other ones. I get some of these freebies for a trip. I read a book and often leave it in the ship or hotel's library to lighten my load. Some people swear by the plastic bags that take the air out of clothes and squash them for more packing space, however I have not had much luck with these.
Business travellers often take apparel in just two or three colours to mix and match more easily, especially when they have both casual and formal functions.
When travelling with children, accept strangers' help. My toddler had a meltdown in an airport and I was losing my cool. I happily let a grandmother entertain him in his stroller with a new toy that she was giving her grandson. I had a newborn and a pre-schooler on a flight when the man sitting in front of us graciously got my stroller and kids' luggage down from the overhead locker. Then Tiger Woods even insisted that we got off the plane before him.
Wrap up activity books, travel sized games and other entertaining small toys and dole them out on the trip. I gave my young sons medication for their ears on flights after consulting with their paediatrician, since the other remedies did not help their Eustachian tubes.
I took premeasured formula in a container that held three individual bottles' worth and only had to put water in the bottle. I dumped in the right amount of powdered formula for each bottle given and this made travelling with a baby very easy. Of course carry extra snacks since there can be flight delays.
One doctor thought she would be smart and gave her young sons an anti-histamine on a long haul flight to get them to sleep most of the way. It was a trip from Hell. She said for the entire flight they screamed and cried like when they were on the verge of sleep at home, but were cranky and did not nap at all on the plane.
This is quoted by many folks, "Take twice the money and half of the clothes that you think that you will need on a trip."
Originally published in The Divorce Magazine thedivorcemagazine.co.uk
There are ways to explore exotic locales or places closer to home and not break the bank. The Travel Bug is in our family's DNA, so I had to learn some financial shortcuts to make this possible. I am in a group which meets regularly to swap travel stories and tips. Cruise and tour companies that I patronize, send e-mails with promotions and savings. My travel agents have alerted me when there were travel bargains. Ask around for friends' travel tips. One recommended an agency with incredible prices for package tours and my sons and I went to India with them. I have been to nearly seventy countries and have a few tricks to make globe-trotting feasible.
One major method for getting airline tickets is my credit card through an airline. I rack up more miles by having an airline sponsored one, rather than a generic card through a bank, with miles used for various airlines. My friends that have cash back cards do not get enough for the equivalent of free airline tickets. Usually I have enough miles for my two sons to go to another continent every year or so. I skip the airline credit card with extra perks- such as several passes to the airport lounge – and get the one that accumulates the most miles with purchases. I put everything on that card. I only get a haircut or pedicure with aestheticians who take plastic. Any repair or tradespeople have to accept my visa, or I get someone else. I pay utilities, grocery, petrol, and school fees with my Visa. Gov.UK charges a 1.4% fee for using a credit card to pay taxes. Even with a fee, it is still worthwhile for me to pay all of my taxes with my airline Visa card. I only charge what I can pay off in entirety each month, so do not accrue any interest charges. My utility companies charge a nominal fee per transaction (not monthly) to use a credit card for payments. I pay ahead so only pay 3 to 4 transaction fees per year.
See if your professional organization has trips or conferences in far flung places. I used a travel agency that had trips for four types of professionals, with nursing being one of them. I went to Kenya, Poland, Prague, China and so many other places for a much lower price. In the States, the Internal Revenue Service allows one international business trip a year to be taken off one's taxes. Some professional meetings are held on curise ships for Continuing Education requirements.
Ways to cut lodging costs when traveling: My mum took me on a trip to Washington D.C and we stayed in a dorm room and ate some meals there in Georgetown University's cafeteria. The American travel guru Rick Steves, recommends taking a packaged tour, but opting out on some of the city excursions. The price and convenience makes it worthwhile to forgo a few paid local tours and balance the trip with some alone time away from the group. A few people have been pleased with doing house swaps with strangers for a few weeks. Make sure to do this through a reputable company. I went to several travel talks where people recommended doing volunteer work through organizations, such as EarthWatch.
The big way to have money to travel is to live simply. When extra money comes my way, it immediately goes to the travel fund. We have a bright teal canister from Marrakesh which contains coins found on the ground and any extra cash. It is amazing how throwing in coins and five pounds here and there adds up to a holiday. I bought new designer clothes at charity shops. Go to free or nearly free concerts and events. Scrutinize your expenditures to see what can go. Pare down your gift list and inform these recipients (who probably have been wanting to do this too). Meet friends for lattes instead of a meal. Do an inventory off your possessions, sell what you can live without. Metal shops pay for battered sterling silverware and broken necklace chains. Do you have family china or other heirlooms that you do not really want? Sell them and cherish the travel experience in memory of your departed relative. Be creative in slashing costs and discovering fabulous travel deals.
School is almost out and time is nearing for vacation. Taking trips together recharges the family's batteries and strengthens the relationship. Here are my top 10 picks for family fun!
1. London. This is an easy place to navigate with an extensive underground and bus system. There are great travel deals on airline tickets and packaged tours to this exciting destination. Famous sites, such as The Tower of London, Big Ben and Parliament are steeped in history and the subject of nursery rhymes. Relive Rolling Stone's lyrics by walking around London, "She gets her kicks in Stepney, not in Knightsbridge anymore." London is walkable city with attractions close together. Must see museums include Madame Tussaud's, the Natural History Museum and the gruesome London Dungeon. Huge city parks are just the ticket to release pent up kid energy or take a walk in nature. It is easy to buy baby supplies and I was able to pack lightly.
2. Anywhere there is a beach. We stayed at the Outer banks, North Carolina with a baby who happily played in the sand. My mother took me every summer to the Jersey Shore which had fun boardwalks and great beaches. Friends in Los Angeles sail to Catalina Island with their sons and enjoy the laid back atmosphere. My young sons and I stayed in St. Thomas and Nevis and liked the turquoise water. Farther afield is Fiji which has child-friendly hotels and beaches. The activities are geared towards families whether in the water or taking a guided nature walk.
3. Alaska. My sons and I went twice on Holland America cruises around Alaska. The ships dock a short distance from town or nature trails which makes it easy to get around if one is in a stroller. My sons learned a lot about wildlife, nature and Native American culture. They heard about history, including the Gold Rush and got to walk inside a famous bordello (their highlight).
4. Dude Ranches. Friends have enjoyed hours of horseback riding and hiking into wilderness on these ranch vacations. There are campfires with sing-a-longs and roasted marshmallows. One can be close to nature without camping.
5. The American West. There are some breath-taking parks, such as Yellowstone. Pristine nature packed with wildlife.
divorcedmoms.com/articles/planninng-your-summer-vacation-10-best-destinations
The big draw on ships is the kids' clubs, which have separate age groups. My sons met kids from around the world and especially enjoyed the sea days when they could spend more time there. Most ships' clubs are for those between three and seventeen. Cunard allows babies from six months in the play area with parental supervision. They also have a night nursery for those between twelve and twenty-three months until 11 pm so a parent can enjoy adult company and take in a show. Carnival, P & O, and Norwegian Cruise Lines start their kids' clubs at age two. Most of the cruise lines offer a babysitting service for a fee. Celebrity Cruises includes science and nature with their kids programs and has slumber parties. Most cruise lines, including Costa and Disney, have year round children's programs. Fred Olsen's Black Watch and Balmoral only have them during school holidays although the Braemar has a dedicated playroom.
My sons particularly enjoyed the teens' hangout on the Holland American ships. When we sailed around the Hawaiian Islands the children's program included Polynesian culture. They learned songs, dances, vocabulary, and fun facts about these islands.
Make your expectations clear so you and the kids are on the same page. My rule for lunch and dinner is that we meet in the cabin and go to either the dining room or cafeteria together. I mandate their company for at least one afternoon tea each cruise. I give clear instructions about what time and where we are meeting for shore excursions, but usually we are going there together. I do stay with them on shore excursions for security reasons, since we tend to go to places like Albania or locales which are like a maze.
I enjoy my boys' company, but also my alone time reading or snoozing in a deck chair. They like some time with their peers. Cruises give us relaxing time to bond without the stress that comes with divorce and the diversion of jobs and commitments.   We concentrate on fun and strengthening our relationships with each other. My mum often joined us and cruising is a way to vacation that keeps three generations happy.
I do not buy either the alcoholic or non-alcoholic drink packages, instead we drink the free water, tea or coffee.
We enjoy a latte or beer in an atmospheric place on shore as part of the local culture.
We are judicious with shore excursions and choose the ones that are extraordinary. These included a day trip to Lapland to meet Father Christmas, visiting the villages in Cinque de Terre, going to the archaeological sites on Kirkwall, and a day trip to Albania.
In Oslo, we did a city tour for a fraction of the ship's excursion price once we got off the ship. In other places such as Croatia, we walked on the city wall and soaked up the culture without a formal tour.
If you enjoy your cruise, consider booking another one while still on board for an additional discount.
We stick to mainly two cruise lines for the perks of being in a loyalty program. The discounts are larger and after a long haul flight, I enjoy being able to board a little earlier.
The beauty of ships' loyalty programs as opposed to airlines' ones, is that you keep your status. One you have sailed a certain amount of days, you never lose it, but only go up in the program.  With the airlines, your status is dependent upon how many miles you accrued the year before, and ships are what you have sailed during your life, not past the year.
There are specialist cruise booking sites that compare prices and give good deals. I book with cruise lines directly and get their e-mails regarding specials. Travel agents can look out for cruise sales and last minute price reductions. I book early and get the best fares. Having a third or fourth person in a cabin brings their fares down drastically. I book early for 2 for the price of one specials, such as on the river cruises.
Two single women I met live in the vicinity of Southampton. They keep a bag packed and call the various cruise lines every few days for a last minute cancellation. They cruise for next to nothing. What a life!
Originally published in The Divorce Magazine  thedivorcemagazine.co.uk
Vacation time is approaching and this can be more challenging for single parents. Here are some tips where to go so that both adults and kids are happy.  As a divorced parent, I have to watch my budget more closely and have been able to go globetrotting with my sons. It can be overwhelming taking your first vacation with your children post-divorce.
You may have had special places that you journeyed to as a family or you miss having some adult time. Your holiday budget has shrunk, but not your wanderlust. Make sure that you have a notarized letter from the other parent giving you permission to travel outside of the country. It is easier to get passports or renewals if it's part of the divorce agreement. I got permission for specific future trips abroad during my divorce. My husband balked at first, but the interim child psychologist pointed out that he was jeopardizing his parental bonds by doing this.
All inclusive holidays made it much easier to stay within my decreased means. I also could take my divorced mother along on cruises and my sons have fond memories of globetrotting with Gran. Entertainment, meals and activities are included. What is nice is that my sons enjoyed the kids and teens clubs and still are in touch with some of their buddies from previous cruises.
Once you take a cruise, you are entitled to a past passenger discount and even more if you book another one while still on board. I like going to the concerts and shows and my boys can do other activities, if these are not appealing. Also, I am not paying for individual tickets for transportation between cities.
The ports of call are pleasing to all age groups even to those still in a stroller.
My son had his best birthday party ever which was given by the staff on the QE2.  Royal Caribbean has special "Divorced Dads and Kids Cruises" particularly on their Allure of the Seas and Oasis of the Seas ships. These are designed to strengthen the bond between father and children. There are fun activities for the kids and dad can nip into the casino or have a pint with new pals.   Other lines, such as Norwegian, have also had special cruises for divorced people. I took regular cruises and met some life-long friends.
Do an online search and there are websites, such as Single Parent Travel and Cruisemates that have trips for single parents.  There are all inclusive resorts both in the UK and abroad that welcome single parents and children. The Caribbean has an overabundance of these and one company is "Beaches Resorts" which is owned by Sandals.
They are kid friendly and keep the little ones active while parents relax on the beach. They include meals, snacks, entertainment and non-motorized water sports for one price.  "Grand Pineapple Beach" has a few resorts in the Caribbean and claim to be an exceptional value. Club Med has been around for decades and welcomes children too.
If one wants to get away without tots in tow there are some fun options. Surf Diva Camp is in Costa Rica and has all female classes teaching how to surf.  Many of these women have recently gone through break ups. In the Grenadines, Barefoot Off Shore Sailing School has both co-ed and all female sailing programs.  Kamalame Cay, Bahamas has "Le Divorce" package that includes unlimited booze, snorkeling and many spa treatment plus other surprises.
The Miraval Resort in Tucson, Arizona has "Wellness Specials" not only to pamper, but help people recover from break ups. These wellness specialists help guests gain insight and provide yoga and other activities.  Think about starting new trip traditions. It could be painful travelling to the same spots you visited as a couple.
One woman started taking a nice trip with her mother each year post-divorce. I had my mother join us for some with my sons. Others do a spa weekend with girlfriends. I met some women in my travels who recently started taking trips with their sisters. A friend began mountain climbing post-divorce and did a trek up Mt. Kilimanjaro. One can lose possessions, but not life experiences.
Originally published in The Divorce Magazine  thedivorcemagazine.co.uk
There are subjects to bring up during the divorce proceedings to make life easier down the road. When  big issues, such as custody and division of property are looming in the forefront, it is easy to forget about smaller ones. If your child's passport is up for renewal, or a new one needs to be issued, then have your spouse sign a notarized letter right then and there to give you permission to obtain one for minor children. There is a notary in every attorney's office.
If you had an acrimonious divorce and now you want to take your child out of the country, this could be a touchy situation. If your child is 16 or older then she can get her own passport without both parents' permission. If under 16, then both parents must go to the passport center together, with the necessary documents, such as a birth certificate. If this is not feassible, then one parent may give notarized permission for the other parent to obtain the passport for their child. If your child is close to 16 and her passport is expiring make sure that there is at least six months left on it. One family was turned away from getting into Argentina when their children had only a few months left on their passports.
If you have a judge involved in your child's life then the US Passport Agency will allow a judge to send a statement giving permission for just one parent to obtain a passport for a minor. This could be the judge who presided over your divorce case. Your teenager can petition the court herself for the right to have just one parent obtain her passport. In one case a 15 year old had a judge for an unrelated issue. When his father refused to participate in his passport renewal, then that judge wrote a note on official court stationary to the US Passport Agency allowing the child to get a passport with just the mother. The mother had a notarized copy made and carried that with her when she left the country to avoid any complications with customs. When one parent takes a child out of the country, then notarized permission from the other one may be required by the airlines or customs. If you do not have contact with your ex-spouse, then e-mail the court designee (court moniter in my case) and carry their response that they notified the other parent. I took a copy of the court moniter's e-mail and that worked well.
If you have your child's passport in your possession and the other parent asks for it to plan a trip, be careful if you think that there could be a risk for kidnapping. Consult your lawyer if you are in this particular circumstance.
Here are great tips from a frequent traveler:
1.  Save, don't throw away, your holey underware and socks.  Add to it, pants, dresses etc that are on their last wearings. Clothes that aren't to your liking, or were given to you by an ex,  could be included in this mix.  Take these on your upcoming trip and leave them or throw them away as you wear them.  Just think, you'll  have almost a whole suitcase available for souvineers and presents. If you leave clothes behind in a hotel room, make sure to leave a note to the maid, that they are unwanted.
2. Book trips way ahead of time, even by a year, to take advantage of great prices. For example, Viking River Cruises has 2 for the price of 1 deals. 3. Book  another trip while onboard.  You usually can change the date or destination later, but keep the 5% to 10% discount.
3.  Get past cruiser  discounts or a night free in a hotel, by sticking with the same cruise lines, hotels, or airlines/partners. There are big savings in loyalty programs.
4.Save your small containers, such as eye cream or lip balm ones.  Put sunscreen, hair conditioner, etc in them for your small allotment for carryons.  Remember to use your children's pint bag  liquid allowance for airplane carry ons and load them up with your extra lotions and potions. I especially use their liquid allotment on the return trips, when I bring back bodycare presents for friends
5. A great travel agent is invaluable, particularly if you are in a disaster on the way home and need assistance.  Agents also can sometimes get upgrades and added bonuses, that you can't.  They can get cheaper prices, because they are experts and know how to get travel services in cost-cutting packages.
6. Go to the library and pick up free magazines to take with you. Get cheap paperback books that you can leave enroute, from a used bookstore, thrift shop or library book sale.
7.  Have specific pieces of clothes that you only take travelling.  That way, you can pack in 15 minutes and know what fits and packs wonderfully.  Purchase clothing that can be washed in a hotel sink and hung up to dry.  One great brand that does this beautifully, is  Tianello.  I have black pants that work well with a dressy top, or a casual t-shirt for daytime sightseeing.  I also have a comfortable pair of casual/ dressy black sandals for extensive walking, or dressier situations.  A few other pairs of shoes are just for trips.
8. Satisfy your wonderlust and get it off your taxes!  The IRS allows one inernational trip a year for your business/ job.  I usually go on one exotic nurses' trip/conference a year in locales such as Iceland, Egypt, South Africa etc.  Check for conferences in the city or area of the world that you would like to explore.
9.  When you return from a trip is the time to restock your cosmetic case.  Wash out your brushes, replace needed cosmetics, then you are good to go at a moments notice.
10.  Do your birthday and holiday shopping when in exotic locales.  You will have different, exciting gifts, often at a fraction of the price of  the more mundane ones at home.  It makes going to the souk more fun, if you are buying future gifts for friends and family. My nephews loved the t-shirts from Egypt, Morocco etc. and my relatives have enjoyed the different jewelery, not found at home.  My friends enjoy the different facial treats  and lotions from abroad.
  It's better to start packing for your next trip right after you get back, rather than waiting to do so right before  your next one. If you need a new travel size deodorant or toothpaste, get them right away and pack in your carry-on.  Wash your make up brushes upon return and when dry, pack them in your cosmetic bag.  This way, if you have a family emergency, you're good to go.  I keep small containers on hand, so I can fill them up quickly.  Save money, by recycling clean small containers, that used to contain your eye cream or lip balm.  I also stash samples and the small cosmetic freebies from magazines, in one place and take them along on journeys.  Airport security allows the blunt tip baby nail scissors to be taken in a carry-on bag.  They are great for cutting open samples or foil pouches of facial creams.  I also cut  off the bottom of tubes, to get every last bit of ointment or cream, while on the road.
I have a bin where my holey underwear and socks go, plus any clothes that have a few more wearings.  Then I can throw away or leave the clothes enroute, to make room for new purchases.  I went to Egypt with one small, carry-on suitcase and managed to have room for a lot of souvenirs and gifts.  When I leave clothes behind, I put a note on top of them in the hotel, that I am done wit them.
I keep an extra comb, travel tooth brush and disposible razor in my carry-on bag, so don't have to remember to pack these before a trip.
You may want to have a space in your closet for a nightgown and several travel dresses or outfits.  Yes, I'm wearing a lot of the same clothes in travel pics, bit I haven't forgotten anything and literally pack in 10 minutes.
Go to the public library to get free magazines before your trips. There is a shelf in my
library where people can exchange magazines. I stock up on used paperbacks at the library's
semi-annual book sale fundraisers. Then I can leave books on my trips and have room for
buying gifts.  My older son goes to a used bookstore and stocks up on books.
I buy some Manga ( his current favorite) books for my younger son and save them for trips.
He is happy to do extra chores for these books and has something new to read on long haul
adventures. Curious George is great for the younger set,  particularly if you are going somewhere with cheeky monkeys.
Bon voyage!
Find conferences around the globe in your profession and you travel to an exotic local as a tax deduction.  The IRS allows 1 international conference a year.
Some people have gotten terrific travel deals by using local travel agencies in foreign locales.  They use frequent flier miles to get to Europe, Asia etc and have a native agency make all of the interior arrangements and save big bucks.
As a single mother with a passion for international travel, I have to get the most bang for my buck. If you are retired or on a routine yearly schedule, such as a teacher, here is a great tip. Book your trip over a year ahead of time and take advantage of 2 for the price of 1 specials. We have taken several European river cruises on Viking River Cruises and paid the price of one passenger for two of us per cabin. All meals and shore excursions are included, so it is a big money saver for me.
Ocean cruises, such as Holland America and Cunard also have better deals, the farther out you book. With ocean cruises, you get another discount if you book, while still onboard for a future cruise.
Another trick a learned from two sweet elderly ladies who live around Southampton, England, is to keep a travel bag always packed and call cruise companies the day of or day before a ship's departure. Southampton is a major hub for various cruise lines, so they often get unbelievable deals at the very last minute. They are both retired and have family that can watch their flat and house when that happens. If you live near a cruise ship terminal, this could work for you. Bon Voyage!
New Zealand
Here, from the mouth of my youngest son, are his top ten favourite places to travel, written by him.
Germany, the scenery is amazing and the food is excellent.
Vietnam, the people are so kind and welcoming plus the food is out of this world.
New Zealand, two main islands make up this gorgeous country with exceptional views.
Argentina, the culture there is interesting and they have quite friendly cats (Botanical Garden).
Thailand, one of the most friendly countries I have ever been good foot massages too.
Gibralter, the gateway to the Mediteranian: nice city nestled on a mountain side.
Switzerland, best chocolate in the world and world class scenery.
Morocco, best mint tea in the world people are very welcoming to tourists.
Sri Lanka, world class Bhuddist shrines have an abundance of wounderful monks and people.
Any rural place, to get away from it all and star gaze.
🙂 enjoy traveling